about us
Acquired by quacks in 2000 from one Ray Howden the ethos behind the radius is based on a belief  in providing a service that gives more in use value than it takes in cash value.
The radius team prides ourselves on our comprehensive and friendly service, helping put local businesses with their local community to benefit their local economy. The radius is an economical way for local businesses to communicate with local people and create an awareness of their products and services.
We use the royal mail to distribute the radius magazine to ensure that the full circulation is reliably delivered alongside the post over four dedicated areas detailed in the distribution tab. We have experienced and qualified design and copy writing staff who can create your advert, to your specifications to effectively communicate with your target audience.  
History of Quacks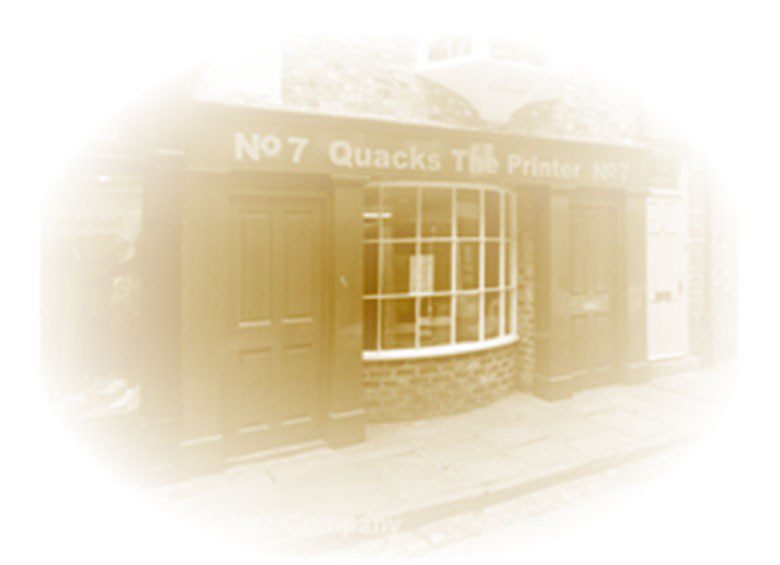 John Jackson (1678-1744) served his printing apprenticeship with John White who had been made Their Majesties Printer for the City of York and the five Northern Counties after printing the historic manifesto of King William of Orange and Queen Mary after King James II was forced to run away in 1688.
In 1703 Jackson set up shop for himself on the very site where the printing house still stands, on Grape Lane in York, naming the enterprise the Queen Anne Copy Shop (QACS) in honour of the recently crowned monarch. The addition of U and K to make Quacks was an innovation of the Sessions family who aren't ready to enter our story for another 280 years. Back in 1703 John Jackson printed a book of anthems for Tom Wanless the Minster organist. The following year saw him repeating his success by printing a 32 page thanksgiving sermon for the Minster, shortly after the battle of Blenheim.
His son and heir to the flourishing printing house, also named John, started the York Gazetteer in 1741, a publication associated with Laurence Sterne, the author of Tristam Shandy. It is known that Sterne and Jackson Junior were friends at the time and it is likely that Jackson got the job of printing Sterne's work, if so the company printed the first modern novel in 1760.
Next in line was John Junior's son Francis, taking over in 1771 who ran it successfully for 19 years, after which it passed into the hands of William Storry and his son. It was subsequently acquired by T. Wickeley until 1835 when one William Sotheran became its 7th proprietor. Towards the end of the 19th Century Sotheran sold it to Valentine Morley who passed it on to his son Henry when it became known as H. Morley & Sons. The business was passed down three generations of Morleys to Leslie in 1932 and deftly operated by Leslie's wife Annie during his war service between 1939 and 1945.
The business was taken over by John Wheater in the mid 60's and sold to father and son team, William and Michael Sessions in 1983, its present custodians. They carry on the family run tradition started by the printer's originator over 300 years ago.
During the 1980's Jackson House became a centre for producing antiquarian book catalogues for book sellers all over the UK and even in Belgium. This led to the Waddleton project being printed and published at Jackson House for Cambridge University.